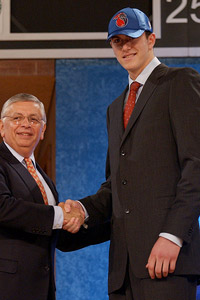 Recently Chad Ford of espn.com named his top 10 NBA draft busts of the decade. Highlighting the crew was Darko Milicic, Kwame Brown, Adam Morrison and a bunch of foreigners. Some surprises included Jordan Hill, a current rookie, and Greg Oden. So how do we define a draft bust?
It's not completely fair to label either Jordan Hill or Greg Oden as busts. Oden is still only 21 years old. Jordan Hill, the New York Knicks' first round pick this year, has barely played half of an NBA season. So why does Chad Ford consider these players busts? He falls into the trap that many others do: comparing draft picks to the success of others of the same class. The success of Tyreke Evans and Brandon Jennings and Kevin Durant has made them look terrible.
Darko Milicic is the prime example. We have all witnessed the success of LeBron James, Carmelo Anthony, Chris Bosh, Dwayne Wade, David West, Mo Williams and Josh Howard. At the time, every scout loved Milicic. A 7 footer who could play the post physically
and
shoot 3's was unheard of. So it's hard to blame Detroit for this pick. But it looks so much worse when so many players from that draft succeeded. Yet rarely does a draft class have that much success. The same goes for Sam Bowie. With Hakeem, Jordan and Barkley all drafted in 1984 as well, that pick by Portland looks even worse.
In 2002, Jay Williams, Mike Dunleavy Jr., Drew Gooden, Nikoloz Tskitishvili, Dajuan Wagner, Nene Hilario and Chirs Wilcox were all taken ahead of Amare Stoudamire and Caron Butler. No one remembers this because they were the best players to come out of that draft, which is not saying much. However, as everyone knows, it's impossible to truly know how great a player will become. With so many busts in 2002 more praise should be given to Miami and Phoenix for finding the only gems than to the other teams for swinging and missing.
Some aruge that there were so many stars in the '03 draft that Detroit is even dumber for taking the one bust. But second guessing draft picks is stupid. No one argued the Milicic pick (among scouts). With the public watching Carmelo lead Syracuse to the NCAA Championship, it gave us something tangible to hold onto. Milicic was foreign to us, both literally and metaphorically. Therefore, to the public, the pick looked especially bad. And when he went to Larry Brown, who detests playing rookies, he had even less of a chance to succeed.
So what makes a true bust? A player's draft potential vs. where he was picked. But it's also players who were given opportunities. Darko never cracked the Detroit rotation. The same goes with NFL QBs. A QB is only truly a bust if he has significant time starting and never finds his way. Others like Brady Quinn, who have had very few NFL starts, cannot yet be considered busts. He has still not had an adequate opportunity. We all conveniently forget that Peyton Manning threw 28 interceptions his rookie year. But with plenty of experience, Manning improved. There's a reason why he was taken number one. The Indianapolis coaching staff gave him time to fulfill his potential.
But back to the NBA. If a player is not drafted in the top 5, he's probably not
supposed
to be a superstar (I do realize that the majority of NBA stars were drafted outside of the top 5.) And we cannot call rookies and 3rd year players busts. We can however, call Memphis 4th overall pick Drew Gooden a bust. Or the entire top 5 of the 2000 draft (Kenyon Martin, Stromile Swift, Darius Miles, Marcus Fizer, Mike Miller). These guys are busts because they had superstar potential, and came nowhere close to fulfilling it, despite being given every opportunity.